Let's talk lighting! I have a healthy (unhealthy?) love for lamps. Warm, cozy lamplight is all I want for my home, especially when the days grow shorter and twilight descends earlier and earlier. This time of year I just want to curl up, my hygge-ified home aglow, and enjoy long slow evenings.
How can I make my house glow-y and cozy, you ask? Try lamps over overhead lighting, and swap out your bulbs! What should I look for, you ask? Well, here we go!
Most commonly we think of wattage when looking for lightbulbs. When bulbs were universally incandescent, wattage sort of interchangeably described both electrical power and bulb brightness. With LED, incandescent, and fluorescent bulbs all on the market now, there are actually three main factors to keep in mind when buying light bulbs: wattage, lumens, and Kelvin rating.
Wattage actually refers to the electrical power the bulb needs to operate. You should make sure to only use bulbs that require a wattage less than or equal to what your fixture is built for. Easy, right? And with so many energy-saving bulbs on the market these days, you'll likely be using a bulb far lower than what your lamp lists as its maximum.
Lumens refer to the brightness of your light source. The higher the lumens, the brighter your light bulb. Here is a handy list to give you an idea of what brightness you can expect, based on the wattage of traditional incandescent bulbs.
To replace a 100 watt incandescent bulb, look for a bulb that gives you about 1600 lumens. If you want something dimmer, go for less lumens; if you prefer brighter light, look for more lumens.
Replace a 75W bulb with an energy-saving bulb that gives you about 1100 lumens
Replace a 60W bulb with an energy-saving bulb that gives you about 800 lumens
Replace a 40W bulb with an energy-saving bulb that gives you about 450 lumens.
Lastly, Kelvin (K) refers to your bulb's color/temperature. By far the most important factor for me these days is my bulb's Kelvin rating. Warmer Kelvin ratings feel cozier, and while dimmers allow you to control how bright you'd like your light to be depending on your need or mood, Kelvin can't be changed unless you buy a smart bulb that allows you to change its colors. Kelvin is measured on a scale from 1,000 to 10,000, with most lightbulbs falling between 2000-6500K. For a cozy feel in your living spaces, 2700K is a nice, warm-feeling Kelvin rating. 3000K will give you a whiter light, and anything above 3500K is bluer and can feel rather "sterile" or harsh to me. 3500K or above is usually best suited for hospital or other commercial applications. Bulbs labeled "daylight" often fall into this category, and while they may be less desirable for spaces you want to feel home-y or cozy, they can come in handy for task lighting, kitchens, or workspaces where bright light is needed. For "warm" vs. "cool" lighting, think about the glow of candlelight vs. the bright white of an operating room. The lower the Kelvin, the more amber your light will be.
Recently I swapped out the cooler LED bulbs in this lamp with these warmer Edison bulbs, and I am so happy with the result! They are 4 watt bulbs, but because they are LED, they compare roughly to the lumens output of a traditional 40 watt bulb. 2700K is a good Kelvin sweet spot for me, so I love the warmth of these bulbs in my living room.
Here are a few of my favorite lamps right now to get you going, some that I have and others that I'd love to:
Directional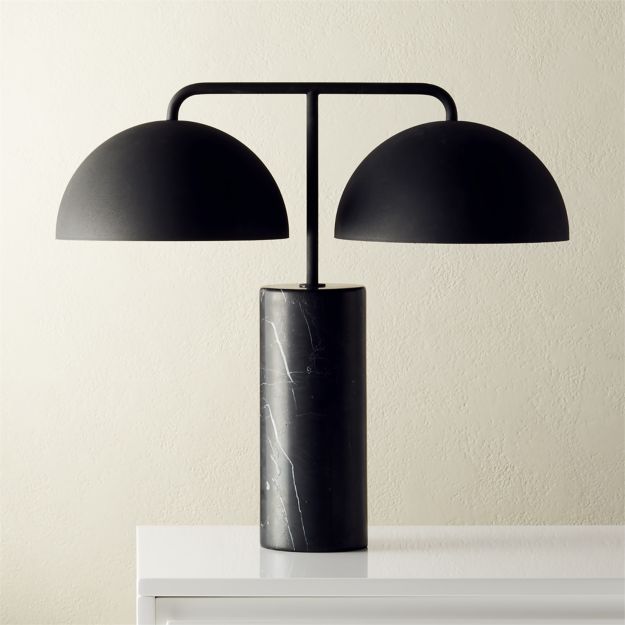 The Domes black marble table lamp from CB2 is sculptural and stunning, and lucky for me, it came with a pair of 2700K bulbs. It catches my eye every time I walk into my living room, in the best way.
When I was a kid I had a banker-style green lamp on my desk that I loved. I'd turn it on to do homework, and it had such a satisfying *click*. This olive Clive desk lamp has all the same vibes with a more modern sensibility, and would look just as good on an end table as on your desk. Give it a low Kelvin bulb for a sweet glow, or swap in a higher Kelvin option for a great task light.
Floor lamps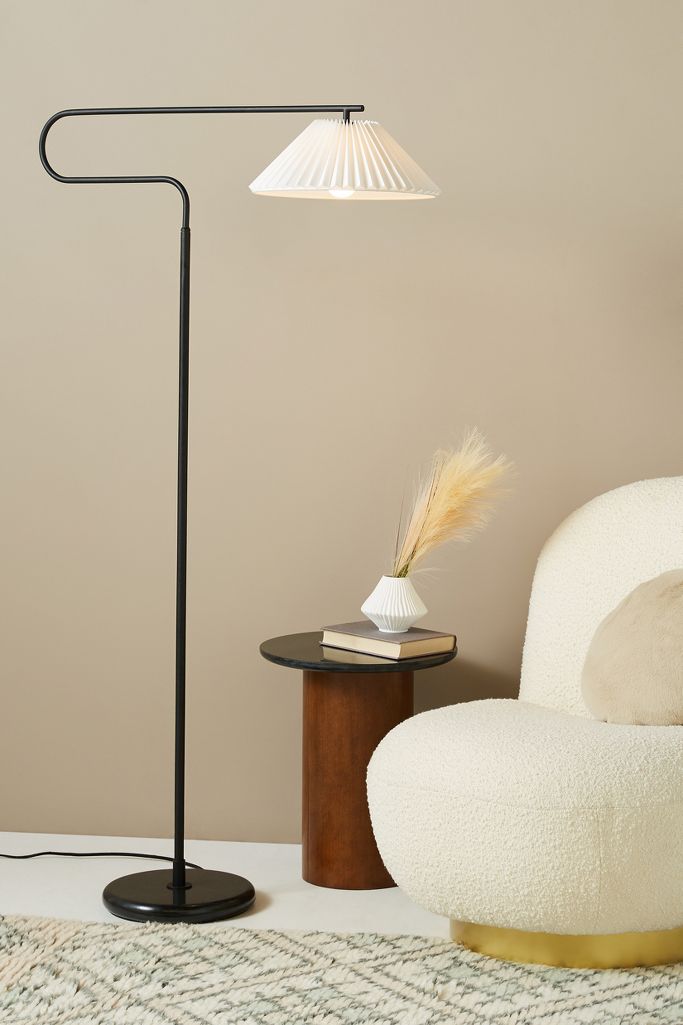 The Harriet floor lamp from Anthropologie had me at hello, with it's graceful modern curves and stylish pleated shade. If I had space for a floor lamp, she'd already be mine. The pleated paper shade will give any room a lovely, diffuse light.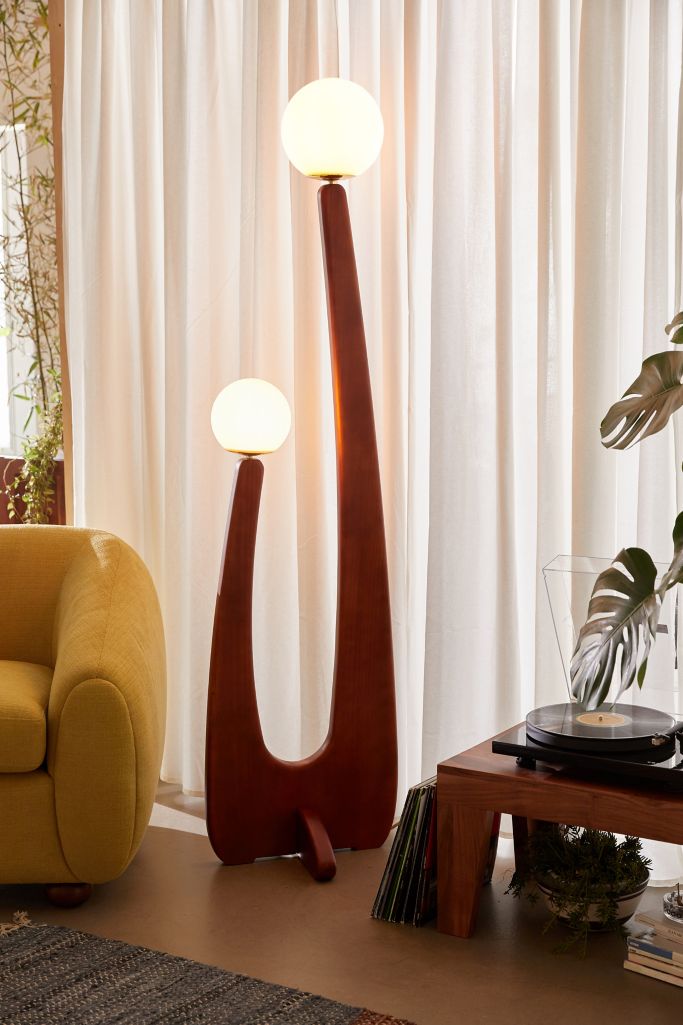 Likewise, the Yoji floor lamp at Urban Outfitters would be mine in a heartbeat if I had a place for it. These frosted glass globes paired with some warm light bulbs would make for a gorgeous ambient glow.
Table lamps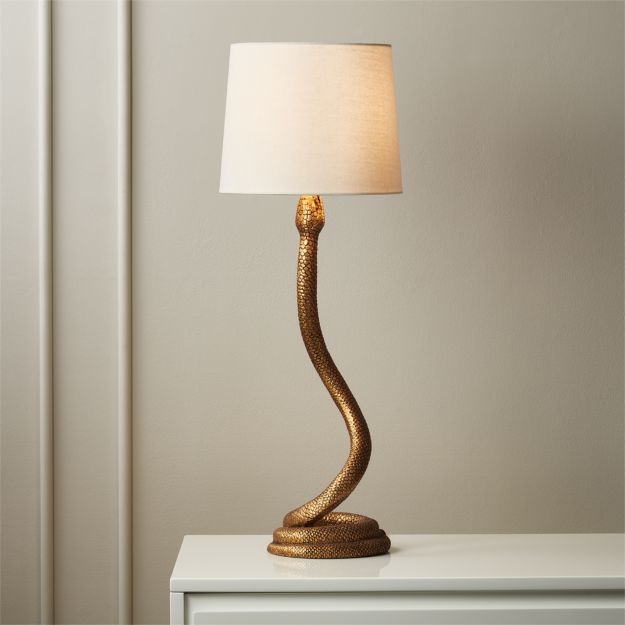 I know I already posted about these, but my Snake table lamps from CB2 are still making me super happy. I have them sitting on my console flanking a gallery wall, and they are just the right mix of antique and glam. The off-white linen shade gives a nicely diffuse light.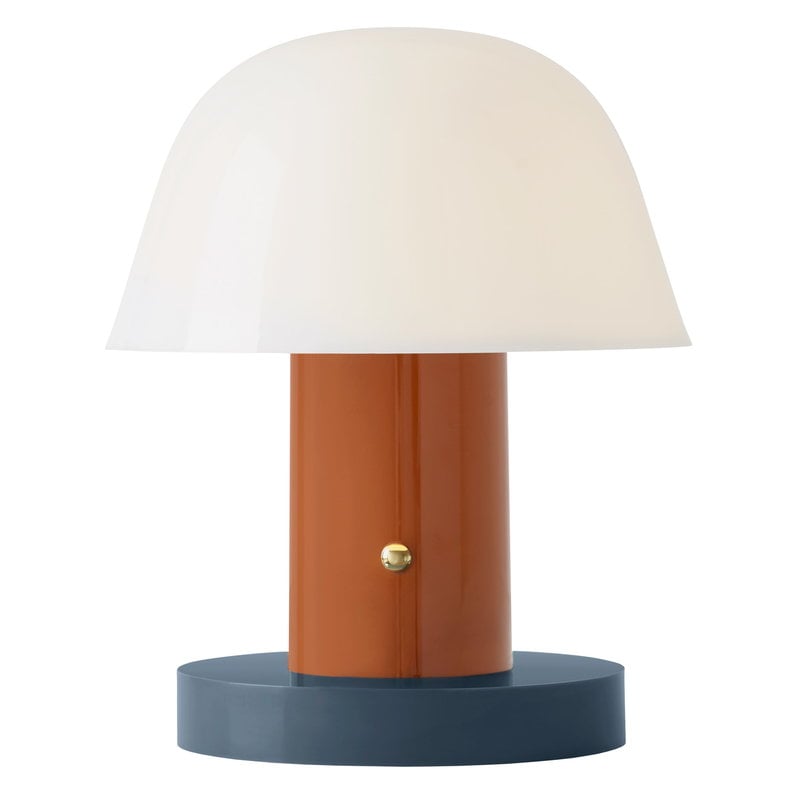 This adorable little Danish modern lamp by &tradition comes with a 2700K LED AND has a built-in dimmer switch. Perfect on a mantel, side table, bookshelf — anywhere! I would expect nothing less from the country that brought us the hygge concept. Plus, I can't get over that chic rust and slate-y blue color combo. Love.
I love all of these Modern Totem table lamps from West Elm, although if I HAD to choose, I think I'd go with the blue black blue black. The shapes are clean and interesting, and would go with a wide variety of styles. Again, a linen shade is a great option for a luminous glow.
And here we are! Beautiful lighting and some cozy vibes — what could be better? Happy hygge-fying!