Three great new books have graced my shelves over the past couple weeks, and I just have to share!
One of the small perks of this "new normal" is the plethora of book talks available online, and I was delighted to be able to attend a talk with Kate McDermott on her new book, Pie Camp. Besides being a wizard with all things pie, she is a gem of a human being who finds so much fun and enjoyment in what she does, it is hard not to share her enthusiasm. I am always a fan of people who enjoy what they do, and McDermott is no exception. I had no less than three, "wow, that is genius!" moments in the charming hour we spent together, including this: McDermott tossed together an incredible-looking berry crostata in the last 7 minutes, with which she encouraged everyone to just have fun with fillings. Marionberry preserves, fresh raspberries, and (what?!) dried blueberries tucked into the center of each raspberry, JUST FOR FUN? Genius.
If her previous book, Art of the Pie, is the "why" of pie, then Pie Camp is indubitably the the "how." Over three hundred pages of methods, recipes, tips, and beautiful photography make for as thorough a primer on sweet pies as anyone could ask for. Fruit pies, custards, creams, crisps, crostatas — oh my! Lattices, braids, and crimps, too! I am more of a cake baker, myself, but I hit the checkout button before I even got halfway through her chat. Now I am looking forward to a pie-filled holiday season — and beyond.
Poet Maggie Smith of "Good Bones" fame has delivered us her genre-defying book, Keep Moving, at just the right moment in time. Originally spurred by her divorce, Smith's "notes on loss, creativity, and change," are precisely what many of us need to hear as this pandemic continues to turn our lives inside-out and sideways. Many of the entries are tweets to herself, encouraging reminders to "keep moving." They are interspersed with the occasional meditation on a beautiful moment, a creative reflection or learning opportunity, or perhaps a small rumination on fear or hope. Whatever the you want to classify this book as, Smith's grace in the face of change shines through in every page. She's the encouraging voice reminding us, quietly, than even if all we can do is keep moving, it's more than enough.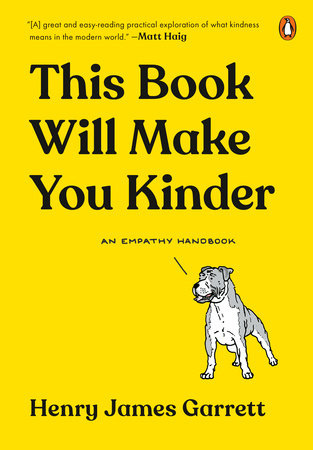 Finally, I could not be prouder of Henry James Garrett and his book, This Book Will Make You Kinder. Garrett may be better known to some as the artist behind Drawings of Dogs on Instagram, with his delightful art and his knack of piercing to the heart of so many social issues with a wittily observant caption or pun. (If you spend even just a couple minutes watching his Instagram stories, you can see what a genuinely kind and lovely person he is, and why I am so proud to hold his book in my hands.)
Now, building on his academic studies and keen interest in ethics, kindness, and morality, Garrett has graced us with an "empathy handbook" — a guide to developing our moral kindness and confronting cruelty in our world. His animal cartoons are peppered throughout his well-considered tome, but he goes far beyond his online art presence to bring us a book I think everyone can and will benefit from reading. Part philosophy, part sociological observation and critique, and entirely accessible, it is as timely as Maggie Smith's book, but in a different way. Smith reminds us how to keep going, and Garrett reminds us that we need to do so together, with kindness and empathy. And I think McDermott has the right idea — let's do so with a warm slice of pie.
This post contains affiliate links. Thank you for supporting more musings!